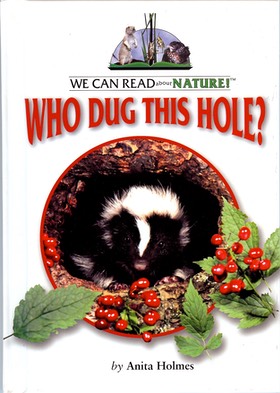 Who Dug This Hole?
by Anita Holmes

Benchmark Books, Marshall Cavendish, New York. 2001

ISBN 
0-7614-1112-7

Nature provides all kinds of habitats for Earth's creatures. Many of these creatures take shelter by digging holes in the ground, in sand, or in other places. In Who Dug This Hole?, the author guides readers on a page-by-page quest to discover who dug the hole.
Young readers discover that ghost crabs and clams dig holes in sandy beaches. They learn that other animals take shelter by digging holes in the ground, including ants, wasps, moles, prairie dogs, rabbits, chipmunks, skunks, and even wolves. In the desert woodpeckers often dig nesting places high up in giant cacti. Sometimes after the woodpeckers vacate the holes, other creatures move in.
"The next time you walk by a hole," says the author, "stop and think. Who dug this hole? Who might be living down there?"
This is an easy reader packed with solid science.
ABOUT THE SERIES

Who Dug This Hole? is one of six easy readers in the Marshall Cavendish's Benchmark Books series, We Can Read About Nature. Each book is easy to read, is illustrated with bold, colorful photographs, and was developed for early readers who love to explore the world of nature. 
HOW TO PURCHASE
Although currently out of print, Who Dug This Hole? can be obtained through used bookstores as well as online distributors. 

We Can Read 
About Nature 
Series
Back to Books by Anita Holmes.